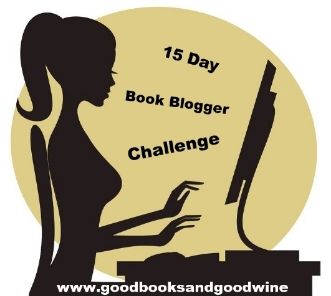 I came across this awesome idea on
Good Books and Good Wine
. The 15 Day Book Blogging Challenge. April came up with these awesome bookish exercises to get our creative juices flowing, to remind us why we blog in the first place and for fun!
I've been so busy lately and I've been out of town so I feel that my blog has been seriously lacking. Truth be told, it's been hard to get back in the swing of things. When I saw this Challenge, it lit that blogging flame again. The nice thing is, you don't have to do all 15 challenges. Just do what you can. You also may want to visit the other participating blogs and see what they have to say.
For complete details please visit the starting post
HERE
.
Quick! Write 15 bullet points of things that appeal to you on blogs.
Easy to read.
Easy to navigate.
Has info I'm looking for (e-mail, twitter button, search field).
Dark colors (purples, reds, blues).
A cool design. I love headers!
Themes. I looove when a blog has a theme and it is carried throughout the blog. The ratings, the lingo, the graphics.
Streamlined. Not a lot of clutter. Especially on the sidebars
A clever or interesting blog name.
Fun stuff! Cool memes, pretty graphics, clever features.
When the blogger interacts with you. Either they will comment on a comment you left, visit your blog or talk to you on Twitter.
Easy to comment. No captchca.
Easy to load. I know this isn't always the blogger's fault, but there are some blogs that freeze my computer.
When some of their personal life shows through. It can be as simple as mentioning their dog's name to being extremely and open with many aspects of their life.
Approachability. I love when a blogger really encourages and welcomes EVERYONE to comment, participate and discuss books.
Personal style. This just doesn't encompass the design, but the tone of the blog and the way the person writes their posts or even formats them. (Also love when a review or post is formatted in a clever way). So many bloggers out there have a flair for getting their opinion heard and information out there. Definitely something I would like to improve upon. Maybe these said bloggers could write a blog post! : )
What about you? Do you agree or disagree with any of the above? Tell me if I missed anything!