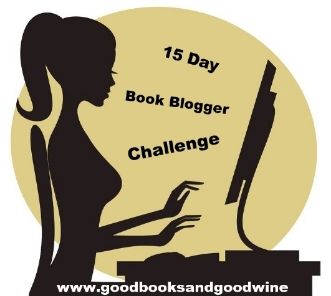 I came across this awesome idea on
Good Books and Good Wine
. The 15 Day Book Blogging Challenge. April came up with these awesome bookish exercises to get our creative juices flowing, to remind us why we blog in the first place and for fun!
I've been so busy lately and I've been out of town so I feel that my blog has been seriously lacking. Truth be told, it's been hard to get back in the swing of things. When I saw this Challenge, it lit that blogging flame again. The nice thing is, you don't have to do all 15 challenges. Just do what you can. You also may want to visit the other participating blogs and see what they have to say.
For complete details please visit the starting post
HERE
.
Recommend a tearjerker.
I don't go out seeking tearjerkers, but sometime emotions sneak up on you. Kind of like when those ASPCA ads come on television.
The books that come to mind that have gotten me the most upset is the Harry Potter series. I cried several times, became depressed, anxious...just so invested in the characters to the point where I would have physical reactions.
Other books that have made me tear up are N0S4A2 by Joe Hill, Memory and Dream by Charles de Lint and Dust & Decay by Jonathan Maberry.
How 'bout you? Do you like reading sad books? If so why?