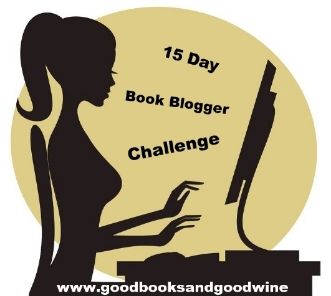 I came across this awesome idea on
Good Books and Good Wine
. The 15 Day Book Blogging Challenge. April came up with these fabulous bookish exercises to get our creative juices flowing, to remind us why we blog in the first place and for fun!
I've been so busy lately and I've been out of town so I feel that my blog has been seriously lacking. Truth be told, it's been hard to get back in the swing of things. When I saw this Challenge, it lit that blogging flame again. The nice thing is, you don't have to do all 15 challenges. Just do what you can. You also may want to visit the other participating blogs and see what they have to say.
For complete details please visit the starting post
HERE
.
How do I choose which book to read next?
Sometimes I'l go by my Challenge lists and sometimes it's just what I'm in the mood for. Sometimes it's becuase I have to review something by a certain time, but that's rare because I don't often take review books. A lot of times, I'll read the first sentence or page and if I'm interested I'll keep reading. If not, I'll put it down and try something different. Sometimes, I'll open a book because it has caught my attention through word of mouth and I've become excited about it.
Regarding audio books, I predominantly take them out of the library so I don't have a ton of choices. I basically do the same thing as with a physical book. I'll read the synopsis. I usually check more than more than one audio book out of the library just in case the first one I choose doesn't work for me.
Whatever method I use, the one thing I can count on is that the decision is always agonizing!
How do you choose which book to read next?