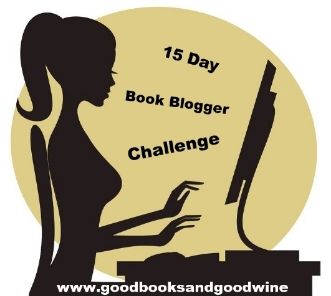 I came across this awesome idea on
Good Books and Good Wine
. The 15 Day Book Blogging Challenge. April came up with these awesome bookish exercises to get our creative juices flowing, to remind us why we blog in the first place and for fun!
I've been so busy lately and I've been out of town so I feel that my blog has been seriously lacking. Truth be told, it's been hard to get back in the swing of things. When I saw this Challenge, it lit that blogging flame again. The nice thing is, you don't have to do all 15 challenges. Just do what you can. You also may want to visit the other participating blogs and see what they have to say.
For complete details please visit the starting post
HERE
.
Why do I blog about books?
(Channelling Buddy from Elf). I blog about books because I love books! Books are my favorite! And reading too. Reading's my favorite. I love reading. (End Buddy channelling).
There just never seems to be a defecit of material does there? There are just soooo many books to read and authors to get to know and stories to appreciate. With books there is always something new and different. Even if a book is old and has been read before, it's the first time *I've* read it. Even if it's a re-read (which TBH I rarely do)there is always something new to be discovered.
I also blog about books because I love discussing books with others. I love hearing what other people are reading, even if it's a book I will never read. That is one reason I'll read blogs/reviews that are kind of different genres than I would normally read. I love to hear the stories and why people like the characters and what they have to say about the book is always fascinating. I like to hear the story from their point of views.
I never really thought to blog about anything else, except maybe Halloween and travelling, but I feel like while I do keep Halloween in my heart 24/7 and I travel whenever I can, books are more prevalent to my everday life.