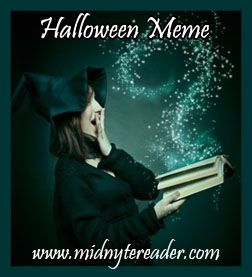 Welcome to my Halloween Meme! Each Friday in October I will be asking a Halloween or Horror related question.
Feel free to simply answer the question in the coments below OR grab the button to create a post on your blog and don't forget to come back and leave your name/url in the linky.
Check out other blogs for their posts as well.
Question
: Do you have a "line" when it comes to Horror? In other words, what do you think should not be written about or what can't you personally read?
Answer
: I think my only line would be insensitive writing. This may make me sound like a degenerate, but I can take a lot in my Horror. I really don't like it when animals get hurt or killed, rape scenes upset me and kids being victimized but if it serves the story and is done with a kind of gentle hand, well then, it might not be a choice I would make but I often feel that a story belongs to the author. And that includes his or her choices.