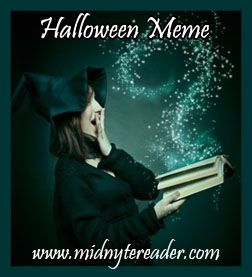 Welcome to my Halloween Meme! Each week in October I will ask a Halloween or Horror related question.
Feel free to simply answer the question in the coments below OR grab the button to create a post on your blog and don't forget to come back and leave your name/url in the linky.
Check out other blogs for their posts as well.
Question
: What was the first book that scared you?
Answer
: I honestly can't remember any scary books as a child although I know I loved anything spooky or creepy. But one book that I remember being scared by was Pet Cemetery. I read it in college and I remember being in my dorm room and even though I knew I was in a building filled with people, I was freaked because I thought something was coming to get me!