**Link your 2011 Dusty Volumes Reading Challenge reviews
HERE
**
Pull the book from the shelf.
Blow the dust off the cover,
It was only a few years ago that I read Frankenstein by Mary Shelley. Since I'm confessing, I haven't read Dracula or any of Lovecraft's works either. (I know, shameful!) If you feel literarily negligent dust off those old, classic books, stories or plays you've always wanted to read and join me in the 2011 Dusty Volumes Reading Challenge.
To join:
Write a post about this challenge on your blog with a link back to this post.

Include a list of the Dusty Volumes you hope to read in 2011. They should have a publishing date before 1960. You can add, subtract or change the list at anytime.

Grab a button and add it to your post or sidebar. (Hint: adding it to your sidebar will earn you extra entries in future Dusty Volumes giveaways! Plus, it would really make my day.)

Sign up on Mr. Linky below. Please enter the link to the Dusty Volumes post on your blog, not your main blog page. (If you link to your main blog page, unfortunately it will be deleted.)

When you write a review on one of your Dusty Volumes please let me know by leaving a comment below with a link to your review. OR, you can leave a comment on one of my Dusty Volumes reviews when I post them. Added 12/19/2010: Also, if/when you write your review it would be great if you could mention that it is part of the Dusty Volumes Reading Challenge.

If you don't have a blog: You can just sign up using your name. You can link to Goodreads, Amazon, Shelfari, etc. OR, instead of linking to a review you can leave a comment with your thoughts.
I have not verified all the books on these lists, but here are a few links to help you out:
My Dusty Volumes for 2011:
Alice in Wonderland by Lewis Carroll.
Best Ghost Stories of Algernon Blackwood by Algernon Blackwood.
I Am Legend by Richard Matheson.
Jane Eyre by Charlotte Bronte.
The Turn of the Screw by Henry James.
Woman in White by Wilkie Collins.
Wuthering Heights by Emily Bronte.
Sign up here:
Link your Dusty Volumes Reading Challenge reviews!
Click Here
.
Grab a
Dusty Volumes
Reading Challenge Button!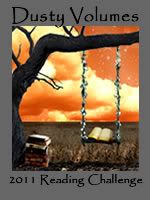 This is a goal I've had for a long time. I'm so happy to be able to incorporate it with blogging and I hope everyone who joins me enjoys it as well. This is my first challenge so please bear with me and if anyone has any suggestions, feel free to let me know.