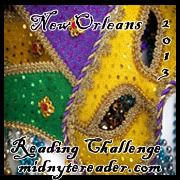 I absolutely love New Orleans! The magic, the music, the mayhem and the quiet moments. I try to visit as often as I can. I've heard people say it's an entirely different world, separate from the rest of the country with it's own unique history and culture.
I love reading and learning about New Orleans and many times I choose to read a book based only on the fact that it takes place there, or the main character grew up there or the author stopped by there once...okay, maybe not that last one, but I just wanted to illustrate my
obsession
adoration for The Big Easy. Because I love reading about New Orleans, I thought I'd give myself more of an excuse to do so by hosting the 2013 New Orleans Reading Challenge.
Guidelines
:
This challenge will run from January 1, 2013 - December 31, 2013.
Books must be read and reviewed in 2013.
You can choose fiction or non-fiction.
You do not need a blog to participate.
Audio books are fine.
Books can cross with other challenges.
You can join at anytime during the year.
You can choose any genre (Romance, UF, Historical Fiction, Paranormal, Non Fiction) as long as it has some connection to New Orleans. (Even if the story or book takes place near New Orleans, such as a Louisiana plantation or the Bayou, it can be used.)
If anyone has any suggestions for this challenge let me know!
Rules
:
Write a post about this challenge with a link back to this post.
If you want to make a list of books you wish to read you can, but it's not mandatory.
Your list is not set in stone. You can change, add or subtract books
Sign up on the designated Mr. Linky below.
Choose a level:

Gator: Read 1-4 books.
Jazz Musician: Read 5-8 books.
Mardi Gras King: Read 9-12 books.
Voodoo Queen: Read 13-16 books.
To post a review
:
Link to the designated Mr. Linky below.
Please leave a comment after linking!
I'm going to try for the Gator Level.
Grab the button!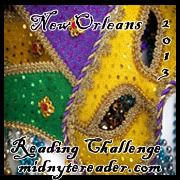 This is the SIGN UP Mr. Linky! (Use only to sign up for the challenge). Please sign up to your Challenge Post, not just your blog.
This is the REVIEW Mr. Linky. (Use only to link up your New Orleans Reading Challenge reviews.)
Image credit:
flippo / 123RF Stock Photo